What does it take to cross a million dollars in ARR… with a team of 3 and an ailing niche product?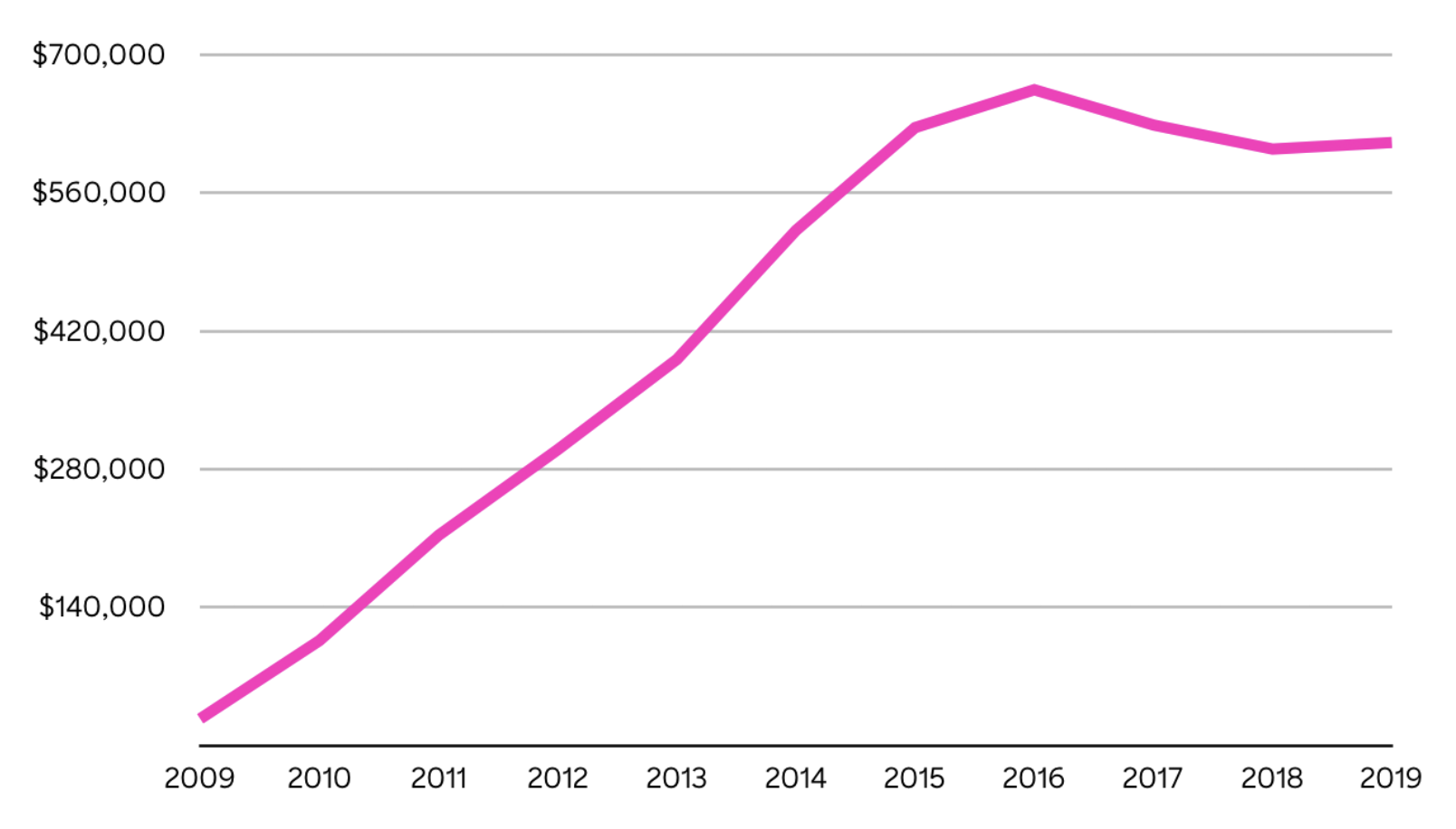 Growth Stacking
That's the literal million-dollar question I'm asking — and I'm going to share allllll the answers with you.
And I'll deliver it straight to your inbox if you sign up for my newsletter:
Hey. I'm Amy Hoy. You might know me from various projects on the internet, perhaps most famously the bootstrapping business blog Stacking the Bricks.
You may or may not also know that I also run a web app called Noko Time Tracking, along with a nearly-full-time team of 3.
And, here's the kicker…
My SaaS is slowly dying.
And — SPOILER ALERT — it's all my fault.
| Year | Total Revenue | YoY Growth |
| --- | --- | --- |
| 2019 | $610,819 | 1.1% 😀 |
| 2018 | $604,178 | -3.9% 😠 |
| 2017 | $628,559 | -5.1% 😖 |
| 2016 | $664,258 | 5.8% 😃 |
| 2015 | $625,954 | 20% 🤗 |
| 2014 | $521,822 | 33.4% 🥳 |
| 2013 | $391,096 | 30.8% 😙 |
| 2012 | $299,749 | 40.4% 🤩 |
| 2011 | $212,955 | 100.3% 🤑 |
| 2010 | $106,340 | 290.9% 🤯 |
| 2009 | $27,202 | |
We grew from $0 to $55,354 MRR in 8 years
And it could have been much faster if I'd been more focused — or less sick.
But the first year, we had to keep consulting on the side to pay the bills.
And in the second year, I quit consulting, but we added more products — infoproducts and workshops — into the mix, to shore up our income so I could continue to not consult. (I really hate consulting).
And in the third year… I was struck with the absolutely wonderful idea that it was time to start working on a bigger project I'd always wanted to work on. Email. I was going to fix email, at least the customer support kind. Yep, it was another SaaS.
And in the fifth year we shut down that second app… and I turned that energy back to Noko, and built our most epic year of growth thus far: $130,726. An average of nearly $11k a month in added MRR.
I learned a very valuable (and extremely expensive) lesson.
Meanwhile, my educational business — started way back in that desperate get-me-outta-here year — was going great! I got to teach designers & developers (like me) how to start a profitable business (also like me!)… and they would pay large sums to me up front to do so. Those revenue windfalls helped fund, well, everything else.
This balancing act actually worked for quite some time. Noko (then named Freckle) kept growing nicely. My edu biz was also growing nicely.
🌿 Everything was growing nicely! 🌿
And then in our eighth year, our best year yet… I got sick. Really, really sick.
I've been dealing with a chronic illness for years, but in 2016 it became absolutely disabling.
I could just about half-do one thing, and one thing only… and so I focused my very limited and feeble efforts on the edu biz, because its infusions of cash could keep everything else going.
And so… it all fell down.
Slowly, but inexorably.
We shrank from $55,354 to $48,623 MRR in 3 years
Thanks largely to a very normal level of churn, as of today — February 5th, 2020 — we've lost:
$6,731 a month
$80,728 a year
Or, for the proportionally minded among you, 12.16% shrinkage. It's not great! It's not a death knell, either, but it's VERY MUCH NOT GREAT.
And here's the real kick in the teeth: Those huge losses? Not huge. Not at first. They're really just tiny losses added up over time…
normal churn (2-3% average)
insufficient new customers (just a few new conversions a month)
and, bitterly irony, a sudden spurt of cancellations due to our increased activity
Noko is a subscription business on, as Gail Goodman called it, "the long, slow ramp of death."
And still shrinking.
Gahhhhhhh.
My health is so, so much better now after literally years of struggle, and here I sit in February, 2020, facing down this problem.
It fucking sucks.
There've been moments where I've wanted throw in the towel. After a little ritual stomping and rending and pouring of red wine. (That towel is an asshole.) If I had to sum it all up in a single word, it would have to be "overwhelming." No. contest.
But I believe in our product — and more importantly, I believe in my process.
We've got to grow, but…
We've done it before. We can do it again.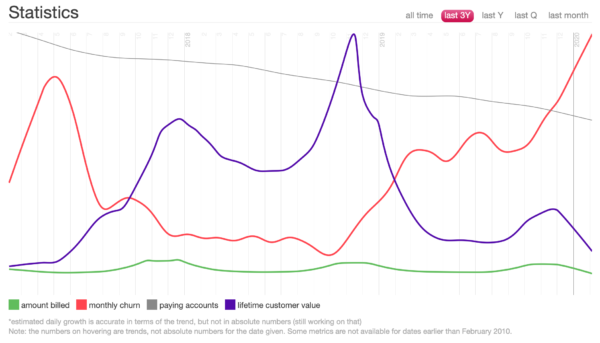 I want to get to $100,000 MRR. How long will THAT take?
How long will it take to more than double our monthly recurring revenue?
To climb back out of a pit labeled No Mind Share, No Back Links, and Absolutely No SEO?
I don't know! But my educated guess is 2 to 3 years.
That's accounting for the amount of lost ground we have to make up (a lot), and our current market mindshare (effectively zero).
We've sure as hell got our work cut out for us.
And… if you do, too?
Join me for an intensely detailed behind-the-scenes project
Because I'm gonna share it. All of it. YES, EVERY NITTY GRITTY LITTLE DETAIL LIKE HOW MANY TIMES I REWROTE THIS STUPID PAGE (answer: 4 times).
The research I do? Yes.
The decision-making tools I create? Yes!
The plans I make? Hell yes!
The time I spend? You bet your sweet ass! (Noko is a time tracking tool, after all!)
The results? Of course! That's what you're here for, after all.
The… uh… the shit that doesn't work?
Yes. Especially that.
Look — if you don't know me, and haven't figured it out by what I've written so far, I'm the kind of person people routinely call "brutally honest." It's not because I'm actually brutal… it's because I'm actually honest.
I don't know everything. I'm an eternal student. I read books and articles and, on very rare occasions, listen to podcasts.
And I'm sick and tired of success stories where the narrative is full of holes, the real work is hidden, there's some secret magic happening behind the scenes, everything goes perfectly, nothing backfires, and all the failures are conveniently omitted.
That's just not how life works.
It's not how business works.
That's why I'm creating the thing I wish existed back in 2008 when I began…
This #GrowthStacking project.
No bullshit. No holds barred. No hidden magic or money behind the scenes.
No fluff.
Join my little #growthstacking club and I'll send you your backstage pass.
Steal my playbook
…and learn from my mistakes. I'll send you everything — in excruciating detail — if you join my #growthstacking club below:
Here's how the #growthstacking club works…
I'll send you reflective monthly lesson learned — but don't assume it's going to be your typical dried-up and reconstituted post hoc, removed from any sense of action and eliding important details, because…
For that gut-punch immediacy, I'll be live-blogging, posting mini podcasts and screencasts real-time. As I do the work. Questions. Decisions. Minor tweaks. Roadbumps. Little wins. You can follow along as it happens, but I'll also be sending out a weekly recap.
Resources and artefacts. I'm learning how to be more productive and effective, and I'm creating tools to help me research, problem solve, and get shit done. I'll send 'em your way as I publish them.
A little more about my perspective…
What do I mean by "growth"?
Here's what it doesn't mean: "Growth at all costs." I'm not interested in 'hacks' that squeeze out a point increase… at the cost of making a sale to someone I can't help.
This is my work. And to me, my work matters.
Right now, Noko is a very good product — and it has the potential to be a truly great one. I originally designed it to make time tracking painless so our customers could charge more. The next stage is to use that data to empower our customers so they can achieve more.
It's all about the customers.
Get more customers. Serve them better — keep them longer.
Unlock long-term success for your customers and you unlock long-term success for yourself.
That's growth strategy in a nutshell.
That's why this project is called Growth Stacking… not growth hacking.
What's with the big, arbitrary number?
"My goal is to hit $100,000 MRR." That's a nice, big, fat round number, isn't it?
But at the same time, I've gone on record saying that I'm not a subscriber to "lambo goals" like this one. In fact, I said they were counterproductive. Why? Because they're huge, remote, and likely to fail. I can't control the outcome. I could do my best and never, ever hit it. (Although I think that's unlikely.)
The best goals are things that are under your control — like "spend 3 hours a week on marketing for 52 weeks."
Don't worry… there are lots of those in this project.
The $100,000 is more of a milestone or an organizing principle. That's why I'm not trying to put a sexy-yet-wildly-unrealistic deadline on it, and why I said up front I think it'll take 2-3 years!
The number is arbitrary. The momentum is everything.
#GrowthStacking
Steal my playbook… or learn from my mistakes! I'll send all the nitty gritty growth details straight to your inbox.