If you've ever had trouble getting a client to pay you, then you know what a huge time kill it can be.
Not only does it take weeks, sometimes longer to resolve payment problems, chasing down a client who hasn't paid drains you of all your focus and keeps you from doing your best work.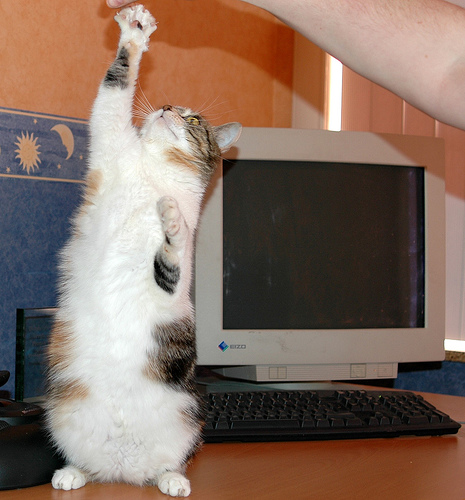 The good news is that not all clients will waste your time and make you chase a check on a string.
The better news is that there is a super simple way to get rid of those dirt ball clients for good!
A fixed payment schedule, including up-front deposits, is one of the biggest differences between a Seriously Cash-Strapped Freelancer and a Serious Freelancer.
A clearly defined, no-nonsense payment schedule separates you, the expert, from the competition and the few unscheduled "creative types" your potential client may have met in the past.
It's true!
When a Good Client pays you something up front, they feel better about you getting a nice, firm grip on their project. They can rest easy, knowing you're not wasting your time (and theirs) trying to rustle up fast cash.
Now, repeat after me:
"I take a 50% deposits to begin work."
(Unless it's over $10,000, in which case, it's 30%.)
If that feels like too much to ask for upfront, and like you'll send the client running out of the room, remember this:
Down payments are an accepted practice in several industries. Really bad clients look at non-existent payment policies as a way to avoid laying out cash for as long as possible.
Get rid of those guys all together!
If you follow this magical formula you'll be able to to create a life-saving payment schedule for any project.
Take an up-front deposit to begin work (30-50%)
On large projects, take a payment mid-way (25-30%)
Bill the remainder on completion (25-40%)
As long as those percentages add up to 100%, you're golden.
For small, one-off projects such as illustration, single-page designs, or telephone consultations— take 100% up front. Nobody wants to fiddle with 3 payments of $300 (unless they, too, are cash-strapped).
A good client won't even blink at the 3-pronged payment plan you present them. The clients you want to work with will find you more appealing as a result!
The best part about a having a well oiled payment plan is that not only will your flush bank account thank you, but your new, awesome, paying clients will too.
Everyone will know where they stand on project milestones at all times. Everyone wins! :D