We love finding new ways to make tracking your time feel a little less like work, and more like fun.
And really, what's more fun than personalizing your account with an awesome avatar?
Okay, in all seriousness though, using avatars can be insanely helpful for your team.
Teams who use avatars in their account find that:
it's easier to identify their different members
daily pie charts in the Pulse are easier to read
reports and invoices are more visually appealing for you, your team and your clients
Those are only a few of the ways that using avatars in your Noko account can enhance your time tracking experience!
Since we know how much more fun it is to sign into an account with a great profile picture, we've made a few changes to the way Noko avatars work.
Noko avatars are now all created based on the first and last name you enter when signing into Noko. Instead of looking at a bunch of randomly generated pictures, you'll be able to identify who is who based on their initials.
If you want to change your name in Noko you can do so by going to "Settings & Profile" in your "Account & Settings" menu (that's the little pop-up window when you mouse over your Noko avatar).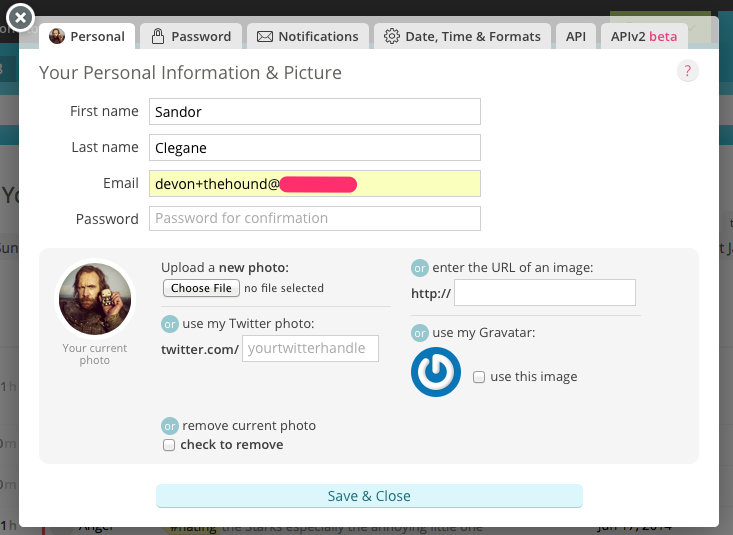 Okay, here comes the fun part! **Drum roll, guitar solo, and excited moon walk please**
Because using avatars in your Noko account can be more helpful than you realize, we've made is super easy to add them!
Now you can drag and drop any picture you want into your Noko account. Better yet, you can drag and drop the picture on to any Noko page and *voila* you've got a brand new Noko avatar.
If you think drag and drop avatars are the coolest thing you've seen in Noko, then hold on to your butts because it's about to get better.
You can also drag and drop animated avatars on to any page of your Noko account. That's right, I said animated avatars.
Go on, have more fun at work. What's the worst that could happen, you're more productive?
Find out more about how to upload avatars in out help docs!
Now, you'll have to excuse me. I've got go get an animated gif of robot unicorn attack for my Noko account.