I think it's safe to say that no one wants to wake up in the morning and dread working with their clients.
When you work with clients that aren't the right fit for you, it not only makes getting out of bed in the morning difficult, but it makes it harder for you to do your best work.
Your dream clients should want the same things you want. They should really resonate with you. But finding those shining star clients among a sea of bad ones can be tough.
The good news is, that once you've got a firm grip on who your ideal client is, you can easily evaluate all your future clients against those good client guidelines.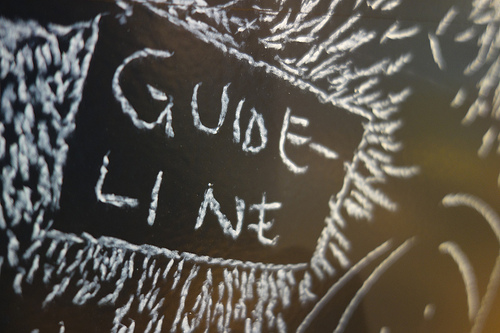 It's important to find the right type of customers for your business – whether that be only working with software companies or seeking out customers with whom you can have a strong mutually beneficial relationship with.
It's equally as important to make client qualification a part of your-everyday-biz habits.
One way to help you identify the good guys (your dream clients) is to use a little something I like to call, a Principle Document, to consult with before taking on a new client. Kind of like talking to your best friend, if your best friend was on paper and concerned with the health of your biz.
A Principle Document is merely a fancy phrase for, a checklist that is combined with your long term goals.
The checklist is for you to compare potential clients with the principles and guidelines you use to describe your ideal client.
Now, let's talk long term goals (cue the cheering crowd).
Too often when we hear the word, "goal" we automatically think of the word, "task". And no body likes likes the word, task.
Setting goals is super important for you biz. But not if you set them for the wrong reasons.
The key to setting good solid long term goals is to align the goals and operations on your business with your values.
You want to start by figuring out what is the most important to you and your business. Because you can't find your dream clients until you know the key drivers behind why you do the things you do.
How much money would I ideally like to make?
How many hours would I like to work a day or a week?
What types of projects do I want to work on?
What other professional avenues do I want to explore?
Aligning the goals and operations of your biz with your core values will help you identify what streams you need to cast all of your lines in (that was my attempt at a fishing metaphor).
In other words, when your goals are consistent with your values, you'll be loads more likely to target the right markets and the right clients for you.
The long term goals part of the Principle Document can seem a bit daunting.
But don't let the terminology trip you up. These goals are a reflection of your hopes and dream, your values and your passions.
Your Principle Document should do two things for you.
Help you prioritize what factors are most important in a potential client
Keep you from wasting time looking in all the wrong places for your dream client (cause let's face it, the world is a big place).
Working with the wrong clients has ramifications.
So draft up a Principle Document, hang it on the wall, and consult it often and always. You'll love not waking up in the morning dreading the clients you work with.